JIMI BARBIANI BAND is the new project by Jimi, one of the best rock-blues slide guitarist in Europe. The JIMI BARBIANI BAND is an alchemy of influences from artists such as Hendrix, Joe Bonamassa, Jeff Beck, Free, Gov't Mule. The explosive sound of the JBB POWER TRIO is best conveyed in live performances, where the heterogeneity of the show and its mounting impact emphasize the personality of each member of the band, allowing them to span from the long-jam ride to the most passionate blues-rock, ever creating a unique sound.
He co-operated: with Johnny Neel, keyboard-player of the Allman Brothers Band and Gov't Mule.
Jimi jammed on several stages with: Eric Sardinas, John Mooney, Johnny Neel, Tishamingo, North Mississippi All Stars, Devon Allman, Mac Ford, Andy J Forest, Buddy Wittingtone .
Opened the shows of: B.B.King, John Mayall, Robert Plant, Blues Brothers, John Mooney, Greg Allman, Joe Bonamassa, Eric Sardinas, Brian Auger, Ten Years After, Blasters, Tishamingo, Devon Allman, Marc Ford, Rebel Storm, Ike Turner, Steppenwolf, Canned Heat, Robert Cray, Dr Feelgood, Tolo Marton, Mick Taylor, Bill Wyman, Johnny Winter, North Mississippi All Stars.
Jimi Barbiani played at the most important festivals and clubs in Italy and Europe:
Pistoia Blues 2003/2005/2007, Castel San Pietro in Blues 2007, Big Mama, Atri blues, Vallemaggia Blues, Burg Herzberg (Deutschland) 2005/2011, whose concert was filmed by the Rockpalast and one of the songs was included in the DVD of the 2005 Festival, Ameno Blues, Nistoc Festival, Woodstock Festival (Italy), Blues Garage (Deutschland), Blues Garaasj (Nederland), Spirit of 66 (Belgium), Blues Hideaway Nashville (USA) and more...
Jimi, just like the left handed guitar legend, plays from his soul, with a style reminiscent of Muddy Waters and his deep vibrato and a slide expertise that reminds of Duane Allman.
Always with good feelings, Jimi's mood style blends technical ability and deep instinct.
His music is inspired by the crowd as he plays for all the people who enjoy the spell of classic sounds as well as the raving rock-blues energy.
With his eyes closed, Jimi becomes one with the stage, playing with an absorbing energy that leads the public, the musicians and himself to a sort of collective trance.
---
"In the U.S.A. Jimi Barbiani would be in great demand as a guitarist... he is warm, subtle and rigorous, according to Jimi Hendrix manner, he is a first-class guitar player"
(Mauro Zambellini – Buscadero)
---
"...the guitarist is the absolute leader of the stage, with an extemporized steady inspiration flow and an excellent slide ability…losing nothing in comparison with the most titled world-famous guitarists."
(Riccardo Capelli - Chitarre)
---
N° 3 guitar player of the year on
BAND OF DIXIE
2011 poll
---
THE BAND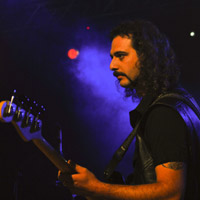 Daniele Vicario, bass guitar
I was born in 1977 and I've got a bass guitar in my hands since the age of 18. With the band Kid Gloves I took the first steps in the world of rock music and later I explored the ways of the blues. Around 2005 I started playing hard-rock for beefy riders and flashy blondes at biker-festivals, but I was not really satisfied, I still needed to find my own dimension. In 2009 I met Jimi Barbiani and he offered me the opportunity I was looking for. So there I was again, trampling on the roads of rock-blues, walking on stage with a brand new band and, what's more important, developing a great feeling with a great guitarist, finding the right groove to create some kick-ass music.
---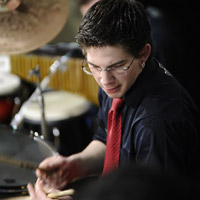 Gianluca Zavan, drums
Gianluca Zavan was born in Udine (Italy), on May 21st, 1992. He started playing drums at the age of 5. In 2006 he studied with teacher Alessandro Piputto and in 2007 he began studying with teacher Adolfo Dal Forno at "Dante Agostini Drum School Paris". In 2011 he started studying jazz theory and pronunciation with Simone Serafini. He took several masterclasses and clinic, on different musical genres, with national and international musicians, like Daniele Giardina, Simone Serafini, Kyle Gregory, Rino Di Pace, Marco Tamburini, Luca Colussi and Dario Carnovale. Since 2001 he plays drums and percussions with different wind bands. In 2004 he started playng with local rock, blues, jazz, pop, bands. He recorded several demos an cds with different bands. In 2011 he began his career as drum teacher in various musical schools. From 2011 he is the drummer of "Jimi Barbiani Band".